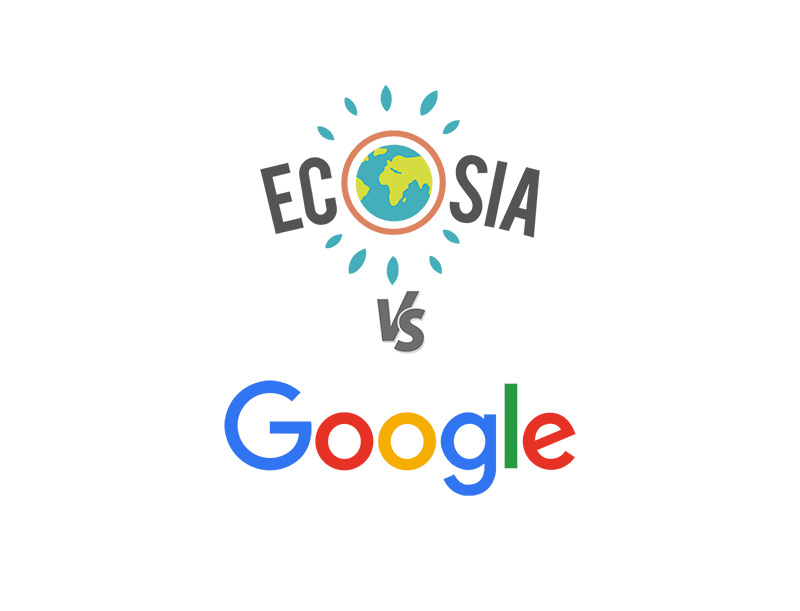 When it comes to search engines, there is no denying that Google has a monopoly, with over 90% of the market share in Western countries. However, people are increasingly looking for alternatives, and Ecosia has made a name for itself as 'the search engine that plants trees'.
In this article, we take a look at how Google and Ecosia measure up against one another, and also show they're not the only options!
Read on to find out how Ecosia stacks up against Google…
Mission and Reputation
During its early years, Google was seen as an innovative tech company that was there to provide a helpful service to people free of charge. There's nothing wrong with that, right?
However, over time, it has become clear that Google is mainly focused on making profits through their advertising model. Google makes a gigantic revenue each year, and relatively little of that is given back for social or environmental good.
They've also faced a lot of criticism for their use of tax avoidance loopholes and have been defiant in defending their use of a 'company structure' which allows them to take advantage of capitalism. They have since agreed to terminate their use of the 'Double Irish, Dutch sandwich' technique but their unsavoury history remains.
Even the part of Google's reputation that has often been seen as a shining example, its company culture, has now become damaged with accusations of workplace bullying and racism.
Ecosia is probably the most well-known search engine focused on helping the planet, and they have planted over 120 million trees so far.
Ecosia, on the other hand, has often been touted as the 'eco-friendly' alternative and has funded a lot of fantastic reforestation work. Ecosia is probably the most well-known search engine focused on helping the planet, and they have planted over 120 million trees so far.
However, it's important to remember that it isn't just a battle of Google vs Ecosia when it comes to "good" vs "bad" search engine companies. There are others, such as, SearchScene, which is fast acquiring a positive reputation as a charitable alternative to Google. SearchScene donates 95% of their profits to international charities such as WWF, Oxfam and UNICEF, making giving back central to their mission.
Environmental credentials
Google has used carbon neutral servers since 2017, which is a step in the right direction, but also something we should expect from such a huge multinational corporation. Beyond this, however, they are mainly concerned with making profits, and don't really have environmental commitments on the same level as Ecosia and other charitable search engines like SearchScene.
However, Ecosia goes much further than this, as helping the environment is part of their mission. Since they use 80% of profits to plant trees, they remove CO2 from the atmosphere and, as such, they consider themselves to be more than carbon neutral. They also run mostly on renewable energy as they use AWS for web hosting and have several solar plants of their own.
SearchScene similarly runs using AWS and they support Eden Reforestation Projects with their tree-planting efforts.
Privacy
Google has received criticism for its data privacy practices, and many people have suggested that Google frequently engages in data mining in the way that they aggressively collect personal information about users for their advertising services.
According to Ecosia, they don't create personal profiles of you based on your search history, but actually anonymize all searches within a spam protection period of 4 days. Moreover, Ecosia encrypts all searches, doesn't use any external tracking tools, and doesn't sell your data to advertisers.
However, like most charitable search engines, Ecosia uses Bing to power their searches. This means that your IP address, user agent and search query need to be passed to Bing in order to deliver your search results. Bing will store your search data, IP address and user agent, but will delete your personal data after six months.
Search experience
We believe the main things that stop people switching from Google to an alternative like Ecosia are habit, convenience and the fact that Google undoubtedly provides a good-quality search experience for its users. Although there are more eco-friendly and charitable options out there, some people might be concerned that they have to compromise when they switch.
Ecosia does provide a fairly comprehensive search experience and offers useful features such as a weather widget, instant calculations and instant translations. Its search results are powered by Bing and, as such, are accurate and reliable.
However, it is missing some of the useful features that Google users benefit from, such as a more detailed knowledge panel on the right-hand side, including links to social media profiles, information about what that person has done (e.g. books, movies, songs, albums etc), and who people also search for.
For users who are worried about "downgrading" their search experience from Google, SearchScene is a great option. SearchScene have put a lot of time and effort into ensuring their search experience is similar to that of Google's, which is why they have a detailed knowledge panel for relevant queries. They also have an instant answers function for simple questions such as 'how old is David Attenborough?'.
SearchScene also has more quick customisation options than Ecosia, with the option to toggle a dark mode on and off, as well as switch between a plain background and one which displays different beautiful scenic imagery each time you refresh.
Overall, it's important to remember that it isn't just a battle of Google vs. Ecosia if you want to make a difference with your search engine. There are other options, like SearchScene, OceanHero and Youcare, so do your research and find the best one for you! Check out our comparison chart to see how they all compare.