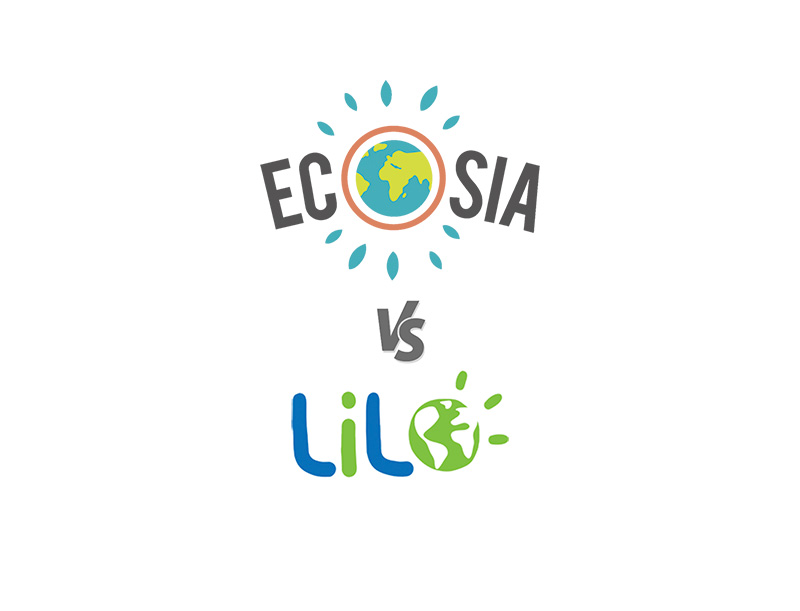 Ecosia and Lilo are two fairly well-known charitable search engines – the former is based in Germany while the latter is French. In this article, we compare the key features of each search engine to see which might be best suited to you!
Central Mission
Ecosia made its name as 'the search engine that plants trees'. So far, they have used the profits made through advertising on their search engine to plant over 120 million trees – and this is constantly increasing! They have tree planting projects across the world, in Europe, Africa, Indonesia and South America, and you can view these on a map on their website.
Lilo is slightly different in that it has a more varied focus. It refers to itself as a 'solidarity search engine' and it supports many projects relating to environmental issues, helping people in need, and animal rights. Key examples include Sea Shepherd France, a project working to protect marine life, and The Hummingbird Movement, a project which supports citizens who choose to commit to a more ecological and supportive lifestyle.
With Lilo, you collect water drops by searching which you can then donate to your chosen projects. There are over 200 to choose from, though many of these are based in France. You can then go into your chosen project once you have collected a certain amount of water drops and give them to that project. If you want to donate your water drops to a project automatically, rather than going in and doing it manually, you can toggle a switch to do so.
Overall, Lilo and Ecosia are fairly similar when it comes to their design and search experience, but Ecosia donates much more to its chosen cause – tree planting.
Donations
Lilo donates 50% of their revenues to charitable projects including those relating to environmental issues, poverty, and animal rights. They list the payments on each project page for people to view.
In comparison, Ecosia donates 80% of profits to tree-planting projects which is a substantial amount – this is probably part of the reason they have become so popular! They publish their financial reports monthly so you see exactly how the money has been spent on tree planting.
It's important to note, however, that this isn't the most generous donation amount of the charitable search engines we've encountered. French-based charitable search engine YouCare also donates 80% of its profits to charity, while here at SearchScene, we donate 95% of our profits to major international charities.
Design
The design of the Ecosia and Lilo homepages is fairly similar. Both have counters underneath the search bar on their homepages to show how many trees have been planted and how many euros have been collected, which is great for keeping users informed of the good work they are doing. Both search engines also have a search counter in the top right corner with trees/droplets to indicate how many searches have been performed.
There aren't many immediate options for customisation on the homepage of either search engine. Having said that, there is a dark mode for Ecosia that can be accessed by installing a browser extension. However, in comparison, SearchScene has a dark mode that is more easily accessible, with a simple toggle switch available within its side menu.
Lilo has a circular image next to their logo which changes regularly to display nice scenic and nature images, but this is fairly small. We believe both Lilo and Ecosia are missing out on the opportunity for some more exciting visuals – SearchScene, for example, has the option for background scenery of beautiful nature images which changes each time you use it, as well as the option to have a plain background if you prefer.
Search experience
Ecosia and Lilo have similar search results pages with a small knowledge panel from Wikipedia on the right hand side and then news, video and image results integrated into the main web results, where relevant. They also have tabs for images, news, videos and more.
Both have shopping results available at the top for relevant searches which can be useful for making online shopping more efficient. Ecosia doesn't have many adverts for informational searches, while Lilo does, which may be off-putting for users when they are clearly not performing a commercial search.
SearchScene beats both by having a much more sophisticated knowledge panel on the right-hand side and, like Ecosia, only has adverts for relevant searches. The knowledge panel has links to other relevant sites and social media accounts, as well as listing the works by a particular individual you search for, such as their books, songs or filmography.
SearchScene also has an instant answers feature, for questions such as 'how old is X', translations, calculations and the weather, which makes it far more comparable to Google.
Which is better?
Overall, Lilo and Ecosia are fairly similar when it comes to their design and search experience, but Ecosia donates much more to its chosen cause – tree planting. In the end, it really comes down to the type of projects you'd like to support with your search engine, as well as taking into account how much they actually donate.
It's important to remember that there are a few options out there when it comes to charitable search engines. Check out our comparison chart here.