SearchScene – A Biased Review!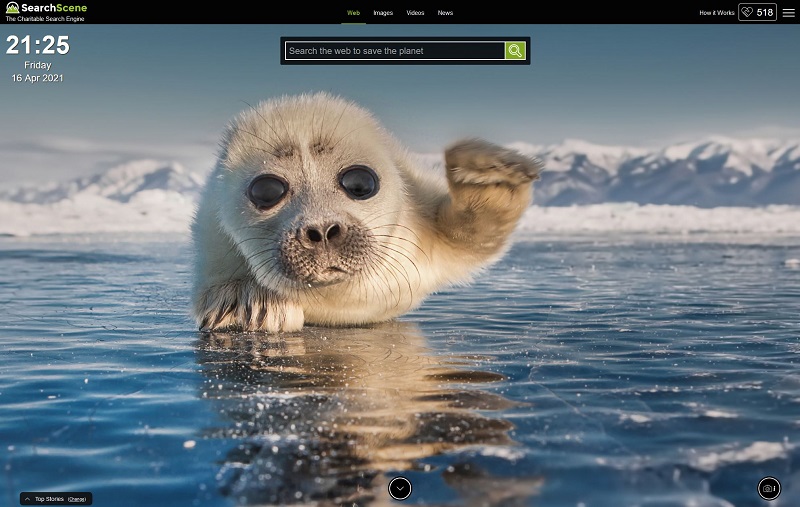 Disclosure: in case it's not already obvious from the name of this blog, this blog is owned by SearchScene. It may seem strange to write a review of your own product and expect readers to take it seriously, but we wanted to point out some of the more important features of SearchScene and this seemed to be the best way to do it! We'll keep it factual with lots of screenshots!
SearchScene donates 95% of its profits from search ads to to major international charities that are fighting the causes and effects of climate change. Inour extremely biased opinion, SearchScene also provides the best search experience of all the charitable search engines we've reviewed, which includes engaging, rich content in the search results.
Charities Supported:
Here at SearchScene, we focus our donations on charities that fight climate change and the effects of climate change. The charities we support not only fight the effects of climate change, but also fight global poverty, fight social injustice, help provide drinking water and toilets, help the world's most vulnerable children, and protect wildlife. We donate our profits to the following well-known international charities:
Eden Reforestation Projects, helping to plant trees in the world's poorest places, which helps to fight climate change and gives local villagers a decent wage, thereby lifting them out of extreme poverty;
Oxfam, helping to fight global poverty and alleviate suffering in the world's most deprived areas, including the suffering caused by climate change;
UNHCR (the United Nations High Commissioner for Refugees), helping to support refugees fleeing from war zones, famine, floods, and climate-driven devastation;
UNICEF (the United Nations International Children's Emergency Fund), helping to support children in danger around the world, including the millions affected by climate change;
WaterAid, helping to provide clean drinking water and toilets in the world's poorest places, reducing the spread of disease and improving living conditions; and
WWF (the World Wildlife Fund), helping to protect wildlife, safeguard the environment and fight climate change.
Whilst the work conducted by these charities is far-ranging, they all have a hand in either fighting the causes of climate change or alleviating the suffering caused by the devastating effects of climate change in the world's most deprived places. You can read more about the charities that SearchScene supports here – https://www.searchscene.com/charities
SearchScene donates 95% of its profits to charity. If you want your searches to have the greatest impact, you can do no better than to search on SearchScene.
If you do not wish to support all these charities, then you can select the ones you want to support by clicking on the heart-shaped charity icon at the top right of any page and making your selection. So if you only care about the environment and climate change, then Eden Reforestation Projects and WWF would be good charities to select. Each search you make counts as a vote and that vote is divided up between the charities you support. We will then divide up our charitable contributions accordingly. More on that here – https://www.searchscene.com/charity-voting-system.
In particular, anyone moving from Ecosia to SearchScene will be pleased to find that they can also support a tree-planting charity at SearchScene. Eden Reforestation Projects is one of the world's largest tree-planting charities and is already the recipient of much of Ecosia's charitable donations.
Search Experience:
The most important aspect of any search engine is, of course, the search experience. If you are giving up Google to use SearchScene, then you will want your search experience to be as close as possible to the search experience you had on Google. In this regard, SearchScene does not disappoint. SearchScene is mainly powered by Bing but the search results are enhanced using SearchScene's own algorithms. It is one of just a handful of charitable search engines that will give you the rich-content you have come to expect from Google's search results. This rich content includes relevant images, videos and top news stories with thumbnails embedded in your main search results – just like Google. As with Google and Bing, these images, videos and news thumbnails are loaded in a carousel, where you can click (or swipe) right to see more items.
SearchScene also provides the best search experience of all the charitable search engines we've reviewed.
Advanced knowledge panels:
As on Google or Bing, you will find an advanced knowledge panel with more information relevant to your search query to the right of the main search results (on your computer) or above the main search results (on your tablet or phone).
On SearchScene (just like on Google and Bing) this knowledge panel contains a lot of additional data, broken down into easily digestible lists. For music-related searches you are likely to find a list of songs, albums and similar artists, all with accompanying thumbnails. For movie-related searches you are likely to find cast information, critic reviews and a list of similar movies – all with thumbnail images. If you search for an actor you are likely to see a list of the movies and TV shows they've starred in. If you search for a book you're likely to find some book reviews, a list of books by the same author, as well as a list of similar books – all with thumbnail images. And if you search for an author, you'll probably find a list of the books they've written – again, all with thumbnail book-cover images. But this is where SearchScene goes even further than Google, because SearchScene's knowledge panels are divided into tabs, giving you a lot more information at your fingertips. For example, if you searched for a movie, you can instantly see the full cast of the movie by clicking on the "Cast" tab at the top of the knowledge panel. On Google, this would normally require an additional search.
You can see this in action in the search results below for Billy Joel. The search results contain videos and top news stories about Billy Joel, both of which are in a sliding carousel where you can click (or swipe) to the right to reveal more videos and top stories. But check out the knowledge panel to the right, where you get a lot more facts about Billy Joel, along with his list of top songs (all with playable snippets), albums and similar artists. Notice the tabs across the top of the knowledge panel, giving you access to "Summary", "Songs", "Albums", "Movies & TV" and "Similar" artists. Not even Google provides this much information!
As with most other search engines, additional tabs are provided at the top of the search results for dedicated image searches and video searches. Like Google and Bing, images are loaded as a gallery, where you just click on the image to see a larger version.
Like Bing, but unlike Google, video search results are also loaded as a gallery of thumbnail videos. Unlike either Google or Bing, most of these videos will play as embedded videos on the SearchScene site, without redirecting you elsewhere. SearchScene will also show you 50 video results per page, in large thumbnails, whereas Google will only provide 10 video results per page using very small thumbnails. In this regard, SearchScene does a much better job of showcasing the video search results than Google does.
As with most search engines, additional filters (or Search Tools) are provided above the search results to allow you to filter the results by freshness (as well as size, color and aspect ratio on the image search tab).
SearchScene also offers autocomplete suggestions, much like Google and Bing – these are a list of search suggestions that drop down under the search box as you start to type. These are very useful and you may have taken them for granted, but beyond Google and Bing they are not as common as you might think on alternative search engines.
We are confident that for 99% of searches you would not know the difference between SearchScene and Google in terms of their search results. And for those cases where you do notice a difference, the difference will not be that great. A small price to pay for saving the planet! And should you wish to switch to Google, you will find a button at the top and bottom of all the search results that allows you to repeat your search on Google with just one click. With this in mind, there really is no reason not to use SearchScene!
Dark Mode:
A really great feature on SearchScene is its dark mode. Flick a switch in the side menu and all your search results will go dark. This is really great for browsing the web in bed at night on your phone or laptop, as it reduces eye strain tremendously. It also uses slightly less energy than the traditional white-background display, so it also helps save the planet just that little bit more. But apart from that, we think it's really cool and it's our default setting when we browse the web using SearchScene in our offices. You can check out the search results in dark mode for the Batman movie below.
User Experience:
The first thing you'll notice when you visit SearchScene is the homepage with its stunning wallpaper scenery that changes daily. In this regard, we've very much modeled SearchScene on Bing, with its scenic homepage. Bing, who have long called themselves the "world's most beautiful search engine", now have stiff competition for that title from SearchScene. You can explore some of the world's most beautiful places as you search on SearchScene.
You can click on the image info box at the bottom right of the homepage for the name of the scenic location and you can choose to load a different scene on every visit or every 30 mins, every day, etc. Simply click on the homepage settings icon at the top of the screen to change this and all the other wallpaper settings.
SearchScene will also allow you to select your own image to use as your wallpaper – want your SearchScene homepage to show you a picture of your pet, child, girlfriend, boyfriend or your favorite sports team? No problem! Just use the "Select Image" button from the side menu and you can choose any image you like from your computer, phone or tablet as the wallpaper image. This is another feature that neither Bing nor Google have.
Furthermore, if you find that the search box is in the way of the homepage scenery, you can simply drag it to your preferred location on the page (desktop only). This is a nice touch!
If you would prefer to have a Google-style blank homepage, then you can select the blank version of SearchScene from the side menu or navigate to blank.searchscene.com. Use the side menu to navigate back to the scenic homepage again, or simply visit www.searchscene.com. The website will remember your preference and so will return you to your preferred homepage each time you click on the SearchScene logo.
SearchScene !Snaps
A useful feature provided by SearchScene is SearchScene !Snaps – these are shortcuts that can be used to jump directly to other sites, usually search engines or social media sites. So if you can't find what you're looking for on SearchScene, simply add !g to the start or end of your search term, and your search query will be executed directly on Google. Want your search to be executed on Bing instead, add !b to your search query. Use !y to search Youtube, use !f to search facebook, use !insta to search instagram, simply use !maps to jump to Google Maps, and so on. Click here for a full list of the !Snaps supported.
Privacy:
SearchScene's privacy policy is as solid as a rock. We don't save your searches, we don't store your IP address, we don't track you across the web and we don't sell your data to advertisers.
As with most (although not all) search engines, your searches on SearchScene are end-to-end encrypted, meaning that no one else, including your ISP (Internet Service Provider) can see what you searched for.
We also do not use third-party analytics tools (the most common of which is Google Analytics) to monitor your search behavior on their site. This prevents Google or any third-party analytics or ad-tech firm from accessing your search terms.
For added peace of mind, we also take the extraordinary step of deleting our web host's server logs automatically every day, wiping away all trace of you from our servers.
You can check out our privacy policy in full for more information.
Speed & Reliability:
We use AWS (Amazon Web Services) to host our site, with a high-performance server in the US and another one in the UK, proximity steering and automatic failover. This makes SearchScene as fast and reliable as it gets. Our servers will handle any number of users, making the site truly scalable. We also use a CDN (Content Delivery Network) to deliver our static content, such as our wallpaper scenery, which is cached in advance for speedy loading. A CDN has many more nodes than a standard or cloud-based web host and this makes it blazingly fast on all but the slowest internet connections.
SearchScene raises the bar for charitable search engines and finally provides a viable alternative to Google and Bing that most users would be happy switching to.
Eco-Credentials:
By using AWS for their servers, SearchScene have done a pretty good job at being eco-friendly. As a large-scale cloud provider, AWS uses 84% less energy than standard web hosts and they also support their energy needs with the use of wind farms, geothermal and solar farms, located all over the world. As a result, AWS are currently able to provide 50% of their energy demands from renewable sources with a commitment to becoming 100% reliant on renewable energy in the near-future. Also, Bing (who supply the majority of SearchScene's search results) are carbon neutral.
Also, of course, don't forget that, as a charitable search engine that supports climate change charities, including the tree-planting charity Eden Reforestation Projects, SearchScene are easily able to offset what remains of their carbon footprint.
Browser Extensions & Apps:
SearchScene offers a number of browser extensions for Chrome, Firefox and the Edge browser. The browser extensions basically set SearchScene as your homepage, default search engine (which affects your browser search box and omnibox), and also loads SearchScene in each new tab you open. If using a browser extension isn't your thing, then you can simply set SearchScene as your homepage.
We also have a mobile app available for iOS (iPhones and iPads) and Android (Android phones and tablets). Our apps are based on the Firefox mobile browser and as such they remove cross-site tracking cookies, social trackers, cryptominers and fingerprinters from every website. This is privacy that extends beyond our search engine to every website you visit! Our mobile apps are full featured browsers with support for tabs, incognito mode, bookmarks and so on. Ditch Chrome or Safari and use our mobile app to browser the web instead and help save the planet with every search you make!
Visit our install page to find out more.
Conclusion:
SearchScene raises the bar for charitable search engines and finally provides a viable alternative to Google and Bing that most users would be happy switching to. Whether it's in terms of its outstanding search experience, its stunning homepage, its rock-solid privacy, the fact that it is the only search engine to support major international charities or the fact that it donates more of its profits to charity than any other search engine, SearchScene is easily the best charitable search engine in our view. Make it your default search engine for just one week and see what it feels like to help save the planet with every search you make!
Check out our comparison charts to see how SearchScene measures up against the competition!