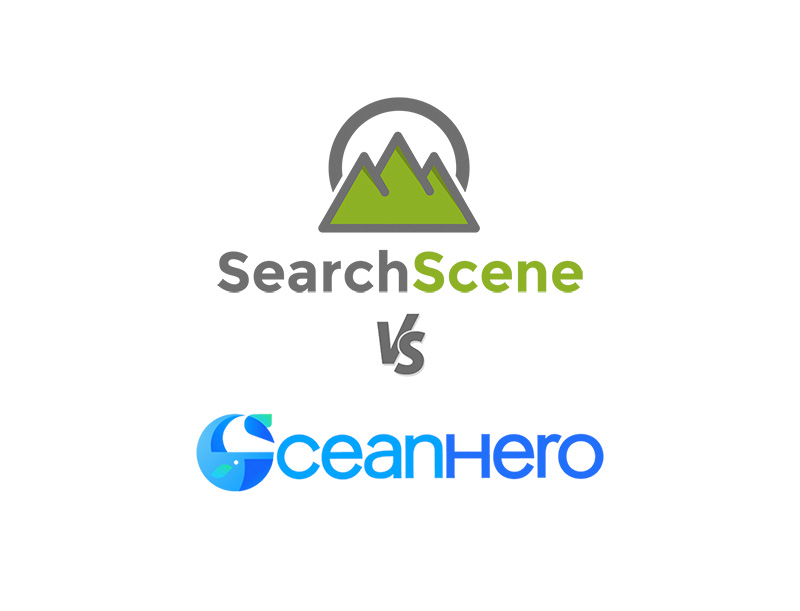 SearchScene and OceanHero are two alternative search engines that are both trying to make the world a better place.
One calls itself the search engine that saves the oceans, while the other is a charitable search engine that is fighting climate change.
But who wins in the battle of SearchScene vs OceanHero? We explore the advantages of each in this article.
Central Mission
It's important for an ethical search engine to have a mission so that people know how they are helping to improve the world. Both SearchScene and OceanHero are clear to their users about how the use of their search engine helps with environmental issues.
OceanHero focuses on a single aim – removing plastic from the ocean. A report by the World Economic Forum suggests that, by 2050, there will be more plastic in the oceans than fish. To combat this worrying situation, for every five searches you do, OceanHero will recover the equivalent of one ocean-bound plastic bottle. They achieve this by donating around 50% of their profits to a for-profit company called Plastic Bank and to a non-profit called Waste Free Oceans.
On the other hand, our charitable search engine, SearchScene, focuses on helping to fight climate change by donating a massive 95% of our profits to well-renowned global charities to help with issues such as reforestation, wildlife protection, provision of clean water and the support of displaced people and refugees.
SearchScene splits donations across a number of charities, although users can select the charities that they want to donate to by using the heart icon in the top right corner of their website. We acknowledge that climate change is a complex issue and so give people the option to donate to a variety of different causes.
OceanHero donate 50% of their profits to ocean cleaning projects, whereas we at SearchScene donate 95% of our profits to climate change charities.
Design
Let's also compare how the search engines look and feel when using them…
SearchScene has a daily wallpaper scene which shows you a stunning image of a different part of the world each day. This can be anything from a Canadian lake to a beautiful shot of the Alps! It's fun to be greeted with a new image every time you search (and it reminds you of just how much there is to protect on our planet). SearchScene also has a dark mode for reducing eye strain.
OceanHero does not have a daily wallpaper but it does have a counter of the plastic bottles you have recovered so far, including a fun feature which assigns you a level based on how many searches you've performed, such as 'Beach Dreamer' or 'Dry Drifter'. The next level is only unlocked once you have carried out more searches which incorporates a gaming element.
It also has an 'Ocean mode' feature which gives you an ocean background in the search results. As well as being visually-pleasing, this has the added benefit of reducing eye strain. This can be turned on and off if you want a simpler background but it adds a nice touch.
SearchScene offers a superior search experience, with fewer irrelevant ads, more instant answers and a richer, more engaging knowledge panel.
Search experience
The most important point of comparison between OceanHero and SearchScene is, of course, the search experience. By this, we mean how easily the user can find a wealth of information when using the search engine (and how it compares to the giant Google).
Both SearchScene and OceanHero are mainly powered by Bing for the search results so there's not too much difference in terms of which web links are displayed. However, both sites have a number of additional features that enhance the overall search experience.
OceanHero has a fairly detailed knowledge panel drawn from Wikipedia but SearchScene has a much richer one including an image gallery, social media links, videos, and links to further information relating to your search such as movies, TV shows, books, music and so on.
To illustrate this, if you search for the famous American singer and songwriter Stevie Nicks, both search engines show knowledge panels which have been pulled from Wikipedia. However, we would argue that the SearchScene's results are far superior. You can compare the two for yourself below.
The OceanHero results show a featured snippet at the top and a knowledge panel at the side with basic overview information pulled from Wikipedia. Underneath, it shows videos and news stories, which is a helpful addition, but no other information is offered to the user.
Like OceanHero, SearchScene has videos and news stories which will be relevant for those wanting to find more information about Stevie Nicks. More importantly, however, the knowledge panel at the side is far more detailed. It doesn't just contain overview information from Wikipedia, but also her top songs, albums, movies and TV shows, social media links, as well as a function showing who people also search for. Far more information is provided to the user without them having to delve deeper!
SearchScene vs. OceanHero: Which Should You Choose?
On the whole, we would suggest that SearchScene is the better option of the two, with more of their profits going to charity. OceanHero donate around 50% of their profits to ocean cleaning projects, whereas here at SearchScene, we donate 95% of our profits to climate change charities. In addition, SearchScene offers a superior search experience, with fewer irrelevant ads, more instant answers and richer, more engaging knowledge panels. Check out our comparison charts to see how SearchScene and OceanHero stack up against each other in terms of features, privacy and charities supported.
Whatever you decide, we commend your decision to support the environment by using a charitable and eco-friendly search engine.