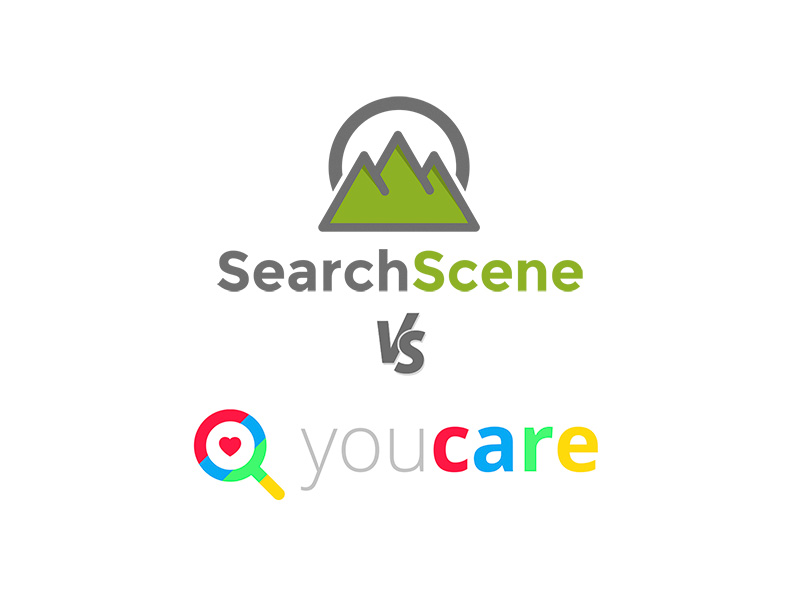 There are a growing number of charitable search engines available, which is fantastic, but it can be confusing to know which one to use! We provide a comparison of two ethical search engines: SearchScene and YouCare.
SearchScene is a charitable search engine that donates 95% of its profits to charity. YouCare is another search engine that donates 80% of its profits to charity.
Apart from the difference in the charitable donations, there are differences in the types of charities supported and big differences in the search results. Read on to find out more…
Central Mission
When we talk about the central mission, we mean the purpose of the search engine and the good it is doing in the world.
The mission of these two search engines is actually fairly similar – they both support a selection of charities and organisations and both allow you to select which causes your searches donate towards.
YouCare lets you choose the 'good deed' whereas SearchScene lets you choose the actual charity or charities you want to support. SearchScene currently partners with six charities and Youcare offers six good deeds.
The good deeds by Youcare include: planting new coral reefs, donating meals to animals in shelters, donating drinking water, removing plastic from the ocean, reforestation and helping with cancer research. In terms of the charities they work with, they have a 'map of organisations' you can view which shows the different organisations by location and good deed. To change your good deed once selected, however, YouCare requires you to create an account and you can only ever select one deed at a time.
On the other hand, SearchScene has a heart icon in the top right hand corner, where you can select as many or as few of the six charities as you like. You also don't need to sign up for an account to change your donation preferences.
SearchScene donates more of its profits to their chosen charities and has a closer search results page to Google.
Donations to charity
While both are charitable search engines, the amount of their profits they put towards their partner charities does differ slightly. According to YouCare, they use 80% of their profits to do good deeds, which they do by donating to their partner organizations. However, SearchScene beats them here, as we donate 95% of our profits to our partner charities!
Both search engines offer proof of donations which can be viewed on their websites.
Design
YouCare has quite a clean homepage, with their logo displayed and the search bar in the middle. In this sense, it is somewhat similar to Google. When you scroll down, you then get more information such as the number of good deeds that have been done for the particular one you've selected and then information about how YouCare works.
SearchScene also has a simple layout with the search bar in the middle but, in contrast, it has a daily wallpaper scene which shows you a stunning image of a different part of the world each day. This is a nice additional touch that adds an element of fun to the search process and reminds you of the beautiful planet that needs to be saved! This can be turned off to show a plain white background if preferred and SearchScene also offers a dark mode.
Search experience
While SearchScene and YouCare have quite a few similarities, when it comes to the actual search results, there is a difference! Both are powered by Microsoft (Bing), which means the results themselves are similar, but the SearchScene enhance their results with other data from lots of other sources, whereas Youcare does not.
YouCare have made very few enhancements to the web page results, meaning the user mainly sees a list of web pages for their query. They do show rich image and news results, which are useful, and they occasionally show a simple knowledge panel on the right hand side (although this doesn't always seem to appear).
On the other hand, SearchScene has a very rich and detailed knowledge panel which is more comparable to Google.
If you take the above example of a search for actress 'Olivia Colman', you can see that YouCare have pulled a very basic summary from Wikipedia to display on the right-hand side. Meanwhile, SearchScene have created a far more sophisticated knowledge panel which includes a longer summary, including key facts, as you'd find on Google, as well as an overview of the TV shows and movies Olivia Colman has starred in.
Another difference between the two search engines becomes clear when you enter a query such as 'time in new york' or 'define notwithstanding'. SearchScene gives you an instant answer to these queries along with an audio of the correct pronunciation (much like Google), while YouCare simply brings up web pages.
SearchScene vs. YouCare: Which Should You Choose?
Overall, while both search engines are doing noble work, SearchScene takes the crown! We like the fact that YouCare positions their mission as 'doing good deeds' but there are some issues with the way you select these good deeds. Moreover, SearchScene donates more of its profits to charity and has more features and a closer search results page to Google. Check out our comparison charts to see how they stack up in terms of features, privacy and charitable donations.